wine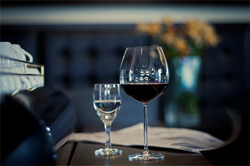 In our wine humidor, you will encounter some 100 wines from renowned and emerging wineries in Italy.
Of course we have not let us take, hold a selection of high caliber wines from other countries, with love in our elegant assortment for you.
Especially if you love the wines of Friuli as Livon, Castello di Buttrio, Tunella or from Tuscany Antinori, Le pupil or from Sicily Mastrojanni Tasca d'Almerita, Cosumano you can enjoy the great moments of Al Borgo wine culture.
Aperitivo della Casa

Borghetto - acqua tonica, limoncello, averna e prosecco

0,10l

5,80

Prosecco del Borgo

Prosecco Extra Dry

0,10l 0,75l

5,50 30,00

Spumante Brut Rosé

0,10l 0,75l

5,50 30,00

Berlucchi 61 Satèn - Franciacorta

0,75l

63,00

Friuli

Villa Chiópris, San Giovanni al Natisone

Friulano, 2022 - Grave DOC

0,125l 0,75l

4,80 28,00

Pinot Grigio, 2022 - Grave DOC

0,125l 0,75l

4,80 28,00

Sauvignon, 2022 - Grave DOC

0,75l

28,00

Ribolla Gialla, 2022 - Grave DOC

0,75l

28,00

Livon- San Giovanni

Friulano, 2022 - Collio

0,75l

32,00

Pino Grigio, 2022 - Collio

0,75l

32,00

Solarco, 2021 - (Friulano – Ribolla Gialla ) Collio

0,75l

34,00

Malvasia, 2021 - Istriana

0,75l

34,00

Manditocai, 2020 - (Friulano) Collio

0,75l

44,00

Braide Alte, 2020 - (Chardonnay, Sauvignon, Picolit, Moscato G.) Collio

0,75l

54,00

Tiare Blu, 2015 - (Merlot, Cabernet Sauvignon + Cabernet Franc) Collio

0,75l

55,00

Friuli-Veneto

Lugana, 2022 - Cá Maiol

0,75l

33,00

Valpolicella Ripasso Riserva, 2019 - Montresor

0,75l

39,00

Amarone, 2019 - Montresor

0,75l

79,00

Chardonnay, 2022 - Tunella DOCG

0,75l

34,00

Sauvingnon, 2021 - Fantinel

0,75l

34,00

Frontiere, 2020 - (50% Tocai F. 30% Pinot B. 20% Chardonnay) - Fantinel

0,75l

34,00

Arcione, 2017 - (50% Pignolo, 50% Schioppettino) - Tunella

0,75l

65,00

Piemonte

Gavi di Gavi , 2021 - Castello Banfi

0,75l

32,00

Ortrugo, 2021 - (Vino frizzantino) - Quattro Valli

0,75l

32,00

Barbera d´Alba, 2021 - Castello Banfi

0,75l

35,00

Pinot Nero Ripasso, 2020 - Peró - Oltrepó Pavese

0,75l

38,00

Barolo, 2018 - Oberto

0,75l

65,00

Barbaresco, 2020 - Prunotto

0,75l

68,00

Umbria-Marche-Lazio

Montepulciano, 2018 - Miglianico

0,75l

30,00

Rubrum, 2018 - (Montepulciano, Merlot, Cabernet Franc)

0,75l

35,00

Ruris, 2015 - (S.G, M + Sagrantino) - Fattoria Colsanto IGT

0,75l

32,00

Campania-Puglia

Chardonnay, 2021 - Tormaresca

0,75l

32,00

Falanghina, 2022

0,75l

30,00

Primitivo, 2021 - Paololeo

0,125l 0,75l

5,00 30,00

Passo del Cardinale, 2021 - Paololeo

0,75l

38,00

Orfeo, 2020 - Paololeo

0,75l

42,00

60 Anni - Primitivo, 2018 - San Marzano

0,75l

62,00

Sicilia

Regaleali Bianco, 2022 - Regaleali

0,75l

33,00

Nero d´Avola, 2021 - Rapitalá

0,125l 0,75l

5,00 30,00

Syrah, 2020 - Salier de la Tour

0,75l

29,00

Cynius, 2018 - (Nero d´Avola + Cabernet Sauvignon)

0,75l

40,00

Cabernet Sauvignon, 2018 - Regaleali

0,75l

71,00

Sardegna

Vermentino , 2022 - Sella & Mosca

0,125l 0,75l

5,00 30,00

Vermentino Rosato, 2021 - Sella & Mosca

0,75l

30,00

Cannonau Kiri, 2020 - Cantine del Vermentino

0,75l

31,00

Galana , 2015 - (Sangiovese, Cab. Sauvignon, Carignano) - Cantine del Vermentino

0,75l

52,00

Toscana

Fumaio, 2021 - (Charonnay – Sauvignon Blanc) – Banfi

0,125l 0,75l

5,00 30,00

Pettegola, 2021 - (Vermentino Toscana) – Banfi

0,75l

30,00

Vernaccia S.Geminiano, 2020 - Strozzi

0,75l

32,00

Rossole, 2018 - Borgo Salcetino IGT

0,125l 0,75l

5,00 30,00

Chianti Classico , 2019 - Borgo Salcetino

0,75l

32,00

iToscani, 2021 - Toscano Olivieri / Bolgeri

0,75l

34,00

Stilnovo, 2021 - Castello Banfi

0,75l

33,00

Morellino, 2019 - Toscana

0,75l

39,00

Vino Nobile Montepulciano , 2019 - Rocca delle Marcie

0,75l

49,50

Rosso Montalcino , 2017 - Castello Banfi

0,75l

39,50

Belnero , 2017 - Castello Banfi

0,75l

43,00

Alska Bolghari rosso, 2018 - Castello Banfi

0,75l

43,00

Villa Antinori , 2019 - Antinori

0,75l

47,00

Brunello Montalcino , 2017 - Castello Banfi

0,375l 0,75l

37,00 78,00

Toscana - Speciali

Chianti Classico Riserva, 2019 - Brancaia DOCG

0,75l

69,00

Sassoalloro, 2021 - Biondi Santi

0,75l

64,00

Poggio Valente, 2020 - Pupille Toscana

0,75l

68,00

Roccato, 2008 - Rocca delle Marcie

0,75l

69,00

Guidalberto, 2016 - San Guido / Bolgeri IGT

0,75l

129,00

Guidalberto, 2020 - San Guido / Bolgeri IGT

0,75l

109,00

Tignanello, 2017 - Antinori DOC

0,375l

99,00

Tignanello, 2019 - Antinori DOC

0,75l

240,00

Sassicaia, 2018 - San Guido / Bolgeri DOC

0,75l

490,00

Sassicaia, 2012 - San Guido / Bolgeri DOC

0,75l

510,00

Ornellaia, 2018 - Antinori DOC

0,75l

380,00

Ornellaia, 2016 - Antinori DOC

0,75l

450,00

Ornellaia, 2013 - Antinori DOC

0,75l

550,00

Solaia, 2017 - Antinori DOC

0,75l

520,00

Magnum 1,5 l

Passo del Cardinale, 2018 - Paololeo

1,5l

63,00

Morellino, 2021

1,5l

68,00

Österreich

Grüner Veltliner, 2022 - Weingut Nigl

0,75l

28,00

Gemischter Satz, 2022 - Weingut Zahel

0,75l

27,00

Gelber Muskateller, 2022 - Weingut Zahel

0,75l

29,00

Burgenland Cuvée, 2018 - Weingut Nittnaus

0,75l

31,00

Zweigelt, 2020 - Weingut Nittnaus

0,75l

33,00