our highlights of Settimana Friulana
additional to our a la Carte dishes
Polenta grigliata su crema di cipolla e prosciutto San Daniele
Grilled polenta with onion cream and San Daniele ham
EUR 10,60
A G
3 Gamberoni al forno su salsa di carciofi e foglie di salvia fritte
3 baked prawns on artichoke sauce and fried sage leaves
EUR 11,90
A B L
Gnocchi con ragù d'anatra e spuma di pecorino
Gnocchi with duck ragout and pecorino mousse
EUR 12,80
A C G L
Spaghetti alla Busara
Spaghetti with a spicy tomato sauce, shrimp and scampi
EUR 14,50
B L
Seppioline e piselli in umido con polenta
Braised squid with peas and polenta
EUR 20,30
D L
Baccalà al forno su crema di prezzemolo e limone con patate al forno
Baked cod on parsley lemon cream with rosemary potatoes
EUR 22,60
D L
Information within the meaning of the Food Information Regulation to allergenic substances are at the restaurant
about Friuli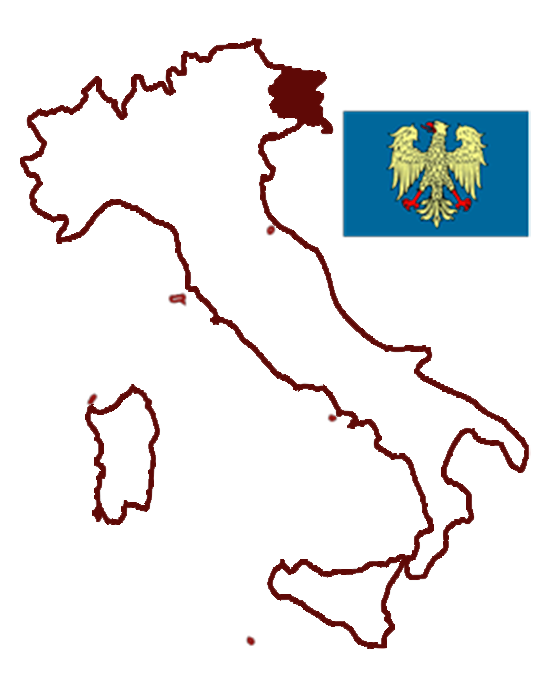 Far beyond the borders of Friuli - Venezia Giulia, the specialty food and wine will be appreciated. Fresh fish is mainly along the coast in new variations on the menu, while the rather harsh climate of the Carnic Alps and the Collio brought forth a hearty meal. Basically reveals the regional cuisine of the region of the long affiliation to Austria.
The cuisine of this region is characterized by the fusion of the peasant and aristocratic Catering - detached from the great culinary history of Italy.
As a specialty of the region deserves the San Daniele ham, which experienced a veritable triumph in the last few years about Friuli borders, special mention. In summer, when each year the finest product of the town of San Daniele is celebrated, it attracts not only ham friends from all over Italy in the small town whose name has gained worldwide fame among gourmets.
Wine connoisseurs know that in the hilly vineyards of the Collio good drops mature, from the simplest Speisenfolge a feast machen.Das Friuli is grouped with the Piedmont and Tuscany's top wine regions of Italy and its wines have gained top honors. In addition lure castles and beautiful landscapes to explore.