our highlights of Settimana Marchigiana
additional to our a la Carte dishes
Carpaccio di spada su valeriana con ricotta al profumo di gamberi e dressing all'arancio
Carpaccio of swordfish on bird's lettuce, ricotta with prawns' flavored and orange dressing
EUR 17,90
B D G O
Zuppetta di calamari e piselli con guanciale croccante e cipolla rossa marinata
Squid stew with peas, crispy bacon and marinated red onions
EUR 11,60
D G O R
Spaghetto marchigiano piccante con branzino, pomodorini, alghe marine e crescione
Spaghetti marchigiano Spicy with sea bass, cherry tomatoes, seaweed and watercress
EUR 17,90
A D L O R
Risotto 4 formaggi salsiccia ascolana, caciotta affumicata e dropping di basilico
4-cheese risotto with salsiccia from Ascoli, smoked caciotta cheese and basil drops
EUR 15,90
G O P
Maiale alla marchigiana - Filetto di maiale in salsa di verdicchio con baby verdurine e crostini all'anice
Pork fillet in Verdicchio wine sauce with young vegetables and aniseed croutons
EUR 22,80
A N O P
Rana pescatrice alla San Elpidio - Coda di rospo su salsa di pomodoro giallo e olive nere, patate e capperi
Monkfish on yellow tomato sauce with black olives, potatoes and capers
EUR 25,80
D L N O R
Information within the meaning of the Food Information Regulation to allergenic substances are at the restaurant
about the region Marche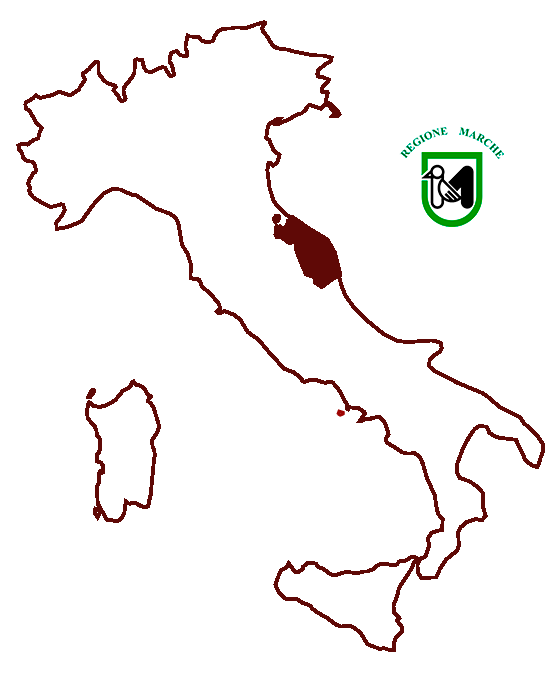 The marks (Italian Marche), one of the 20 regions of Italy, situated on the east side on the coast of the Adriatic Sea. Capital of the region is Ancona, an important commercial center and important port. The brands are morphologically divided into three areas, the eastern slope of the Apennine Mountains, a hilly, running parallel to the coast part and the narrow coastal plain, which stretches along the Adriatic Sea.

The region's economy is dominated by agriculture; there are wheat, corn and fruit, including grapes for wine production cultivated. In the higher parts prevails pastoralism, in the coastal area of ​​fishing is the most important source of income. Among the major industries include the paper industry and the textile industry with the production of silk goods. The coastal towns and the city, located in the hills of Urbino are the main attractions for tourists.

Trademarks are an exciting experience, when we talk about wine and gastronomy. Here is something for everyone here: fish, meat and game, and a lot of delicious sausages and ham. Truffle is also often in the courts of the brands available, especially in autumn, when they accompany dishes; et al Mushrooms, game and other goodies. The wines are getting better in recent years and the brands make themselves even more noticeable in Italy and in the international market.