our highlights of the truffle weeks
in addition to our a la carte menu
Information within the meaning of the Food Information Regulation to allergenic substances are at the restaurant
about truffles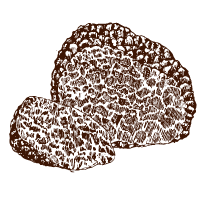 WHITE TRUFFLE
Tuber magnatum Pico
colloquial: Trifora bianca
aroma: very strong, Fragrant, light garlic
taste: intense, best raw
surface: smooth, with an almost golden color
Inside: Pink-gold-colored with white hairs
adolescence: October to December

FINE BLACK TRUFFLE
Tuber melanosporum Vitt., Tuber nigrum Bull
colloquial: Trifora neira, Dolcetto
In the trade: Black truffle, truffle from Norcia, from Spoleto, known in France as Truffes du Perigord (ruffles from Perigord)l
aroma:: insistent, very intense, persistentl
taste: pleasant, even after cooking
surface: black-brown, wary
Inside: black-violet with fine white hairs
adolescence:: Middle November to Middle March

SUMMER TRUFFLES OR SCORZONES
(Scorzonera = black root)
Tuber aestivum Vitt.
colloquial: Rolon aroma: Similar to a rock fungus
taste: rather non-saying
surface: black-brown with prominent warts
adolescence: May to November
Similarly, with the same characteristics and names, there is also the tuber uncinatum Ch. The black truffles so far are often used for the fine black truffle, also known as truffles from Norcia, Spoleto or Périgord.